WASHINGTON, DC — The Online News Association, the world's largest association of digital journalists, today opened applications for the 2017 Women's Leadership Accelerator, which will provide tuition-free intensive training, professional development and support tailored to 25 women leaders pushing innovation in digital media.
ONA is partnering with the University of Southern California's Annenberg School for Communication and Journalism in Los Angeles to host the training from Feb. 5-10, 2017. The focus for the week will be on developing critical leadership skills and tools for navigating change, as well as finding solutions to the unique challenges faced by women in media and technology. Participants also will target and work through a challenge specific to their careers.
The Accelerator forum offers a unique blend of practical guidance, mentorship and off-the-record group discussion, providing a built-in support system for the future. It is squarely aimed at expanding the pipeline, retention and engagement of emerging women leaders in the digital journalism industry, drawing on the expertise of media executives and game-changers and using real-world use cases.
"The results of past trainings, and the strong bonds among the cohorts that have emerged, have proven the effectiveness of this unique approach," said ONA Executive Director Jane McDonnell. "We're delighted to join with the Dow Jones Foundation and USC Annenberg to provide more opportunities to seed empowered women leaders in newsrooms."
The Accelerator is open to all women working in digital media, including freelancers, entrepreneurs and independent journalists. ONA will screen candidates for potential, need and diversity across ethnicity, age, geography, technology platforms and skill sets. In 2017, the Accelerator will accept international applicants for the first time. Applications are due by 11:59 p.m. ET on Nov. 15.
This new partnership will bring a range of prominent women leaders as speakers and mentors to Los Angeles, including:
Kara Swisher
Executive Editor at Recode
Jennifer Brandel
CEO and Co-founder, Hearken
Charo Henriquez-Scaia
former Digital Executive Editor of People en Español
Liz Heron
former Executive Editor at Huffington Post
Thanks to the generous support of the Dow Jones Foundation, the Women's Leadership Accelerator training is tuition-free. Participants will cover their own travel costs; ONA is able to offer a limited number of travel stipends to participants.
This new program is the next iteration of the ONA-Poynter Leadership Academy for Women in Digital Media, a two-year training in partnership with the Poynter Institute. In its first two years, the program received close to 1,000 applications for just over 50 seats. At the conclusion of the partnership, it was clear to both organizations that there was a critical need for expanded training opportunities, and ONA and Poynter will host separate leadership programs for women in 2017.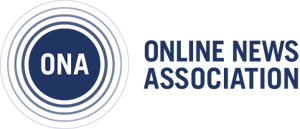 About ONA
The Online News Association is the world's largest association of online journalists. ONA's mission is to inspire innovation and excellence among journalists to better serve the public. The membership includes news writers, producers, designers, editors, bloggers, technologists, photographers, academics, students and others who produce and distribute news for digital delivery systems. ONA also hosts the annual Online News Association annual conference and administers the Online Journalism Awards.
About the Dow Jones Foundation

The Dow Jones Foundation supports organizations involved with journalism, free press, literacy and education and the arts. This program is kindly supported by the Dow Jones Foundation.